YourPure define your Inline cartridge for Chlorine, Lead, Heavy metal, bacterial and Scale inhibition
Model No.

YourPure Cartridge

Made in

Taiwan
According to the water quality characteristics of different regions, there should be different filtration requirements.
Spec
Function:Others
Type:Actived Carbon,Others,Reverse Osmosis
Use:Under Sink,Household Pre-Filtration
Cartridge:Clean Blue, White
Replace filter:1121, 1122, 1123, 1124
Filter module:011 UF, 021 GAC, 022 Lead reduce GAC, 023 Scale inhibition GAC, 024 Lead reduce & Scale inhibition GAC
Cartridge Accessories:Parts
Key Features
According to the water quality characteristics of different regions, city and country, building and bungalows are different.
You should have a customized choice and use a filter that suits your home.

Replaceable element inline water cartridge

And in response to environmental concerns, the filter housing should also be reused to reduce the burden on the environment.
Therefore, we have developed a filter module with different filtering functions, which can be combined according to the water quality characteristics.

What are the pollutants in the water?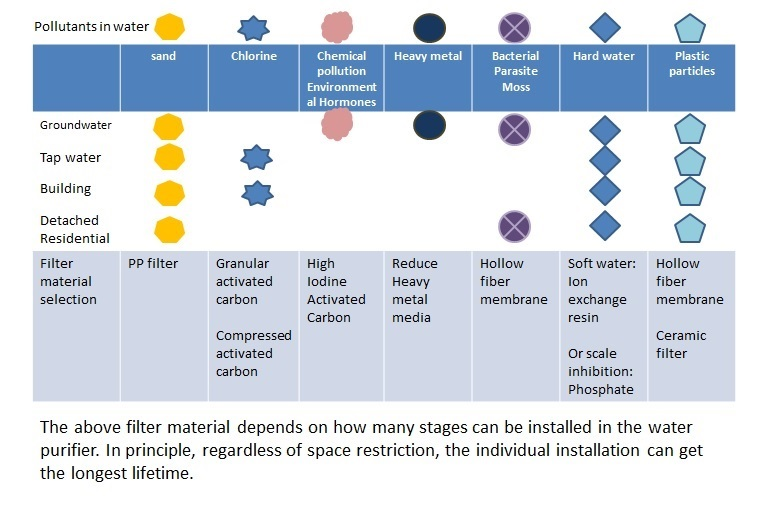 DIY installation, reuse filter housing, environmental protection.
Combine different material modules for water quality in different regions.
Reduce lead, Heavy metal.
Chlorine removal, Dechlorination.
Remove bacterial parasites cysts Scale inhibition
Three step to make your purifier.
Step 1: Select Cartridge style (white / transparent blue)
Step 2: Select the right filter
(What impurities are to be filtered? How long is the expected use)
Step 3: Do you need accessories?
Replace Filter Spec.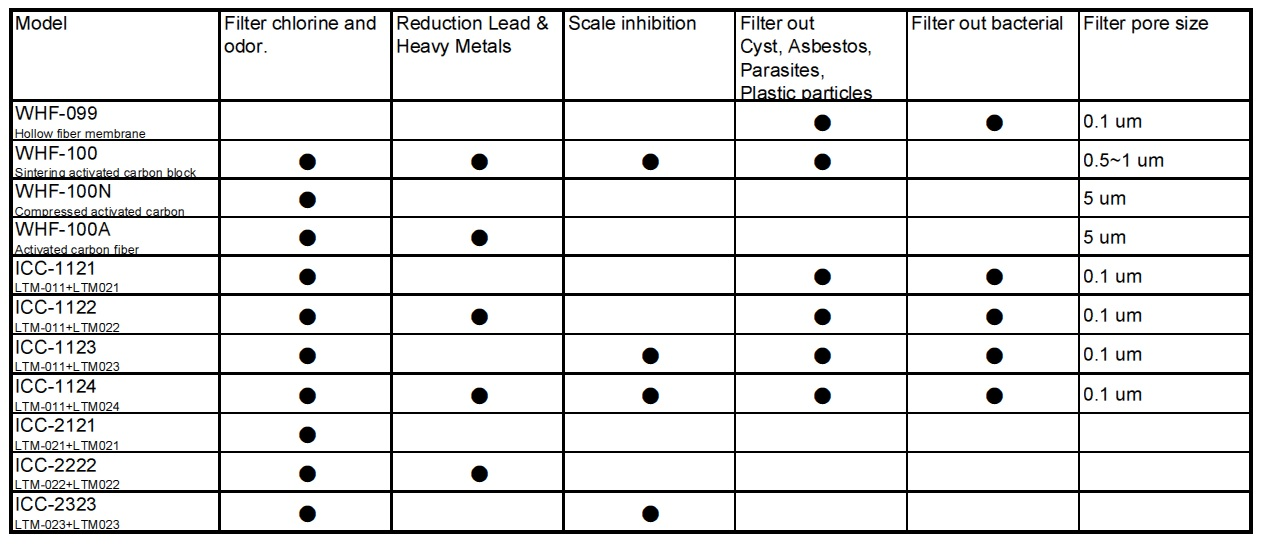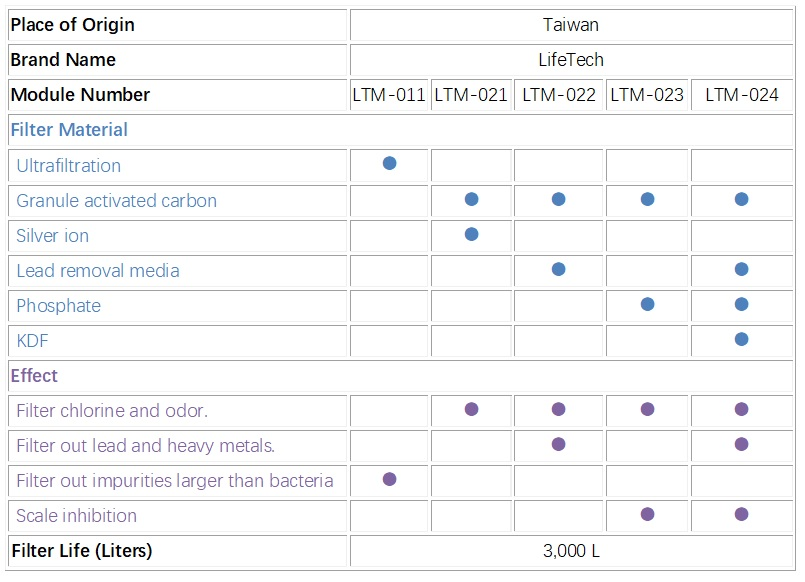 Ultrafiltration membrane :
Ultrafiltration membrane pore size only 0.1 micron, while the smallest bacteria is larger than 0.2 micron. The filter has a very high effectiveness in removing bacteria and in removing protozoa.
High quality Granular activated carbon :
Filter chlorine and odor.
Metsorb HMRG :
Filter out lead and heavy metals such as
Arsenic, Mercury, Cadmium, Copper, Antimony, Uranium, Zinc, Selenium, Chrome+6
Phosphate :
Inhibit the generation of scale.
Calcium creates scale in pipes, on appliances and other plumbing surfaces.
This leads to higher heating and energy costs and expensive repairs fee, such as ice machines, coffee makers, dishwashers and boiler in commercial applications.
Scale can also be a source for bacteria grow.
On the other hand, calcium is very important to human health, should not remove all the calcium in drinking water.
- Don't produce sodium, suitable for hypertensive patients and senior citizens
- No salt, no regeneration
- No backwashing and zero discharge
- No discharge salt water, harmless to the environment
- Long-lasting, No maintenance free
Refrigerator or ice machine, etc. Simple Purifier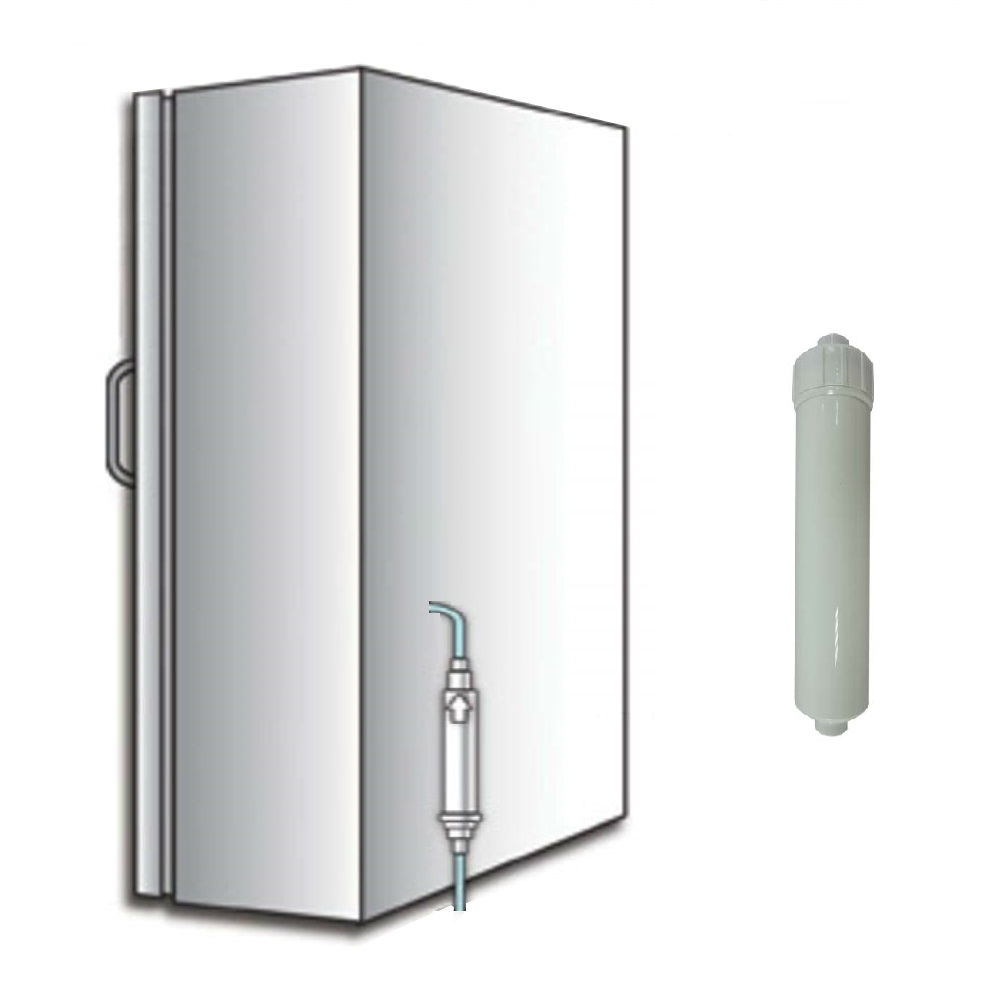 Payment Details
Payment Terms:Other ,PayPal ,Alipay
Minimum Order:1 Piece(s)
---
You may also like
Recommendations
---
Small Order Recommendation